When:
September 25, 2021 @ 9:00 am – 10:30 am
2021-09-25T09:00:00-04:00
2021-09-25T10:30:00-04:00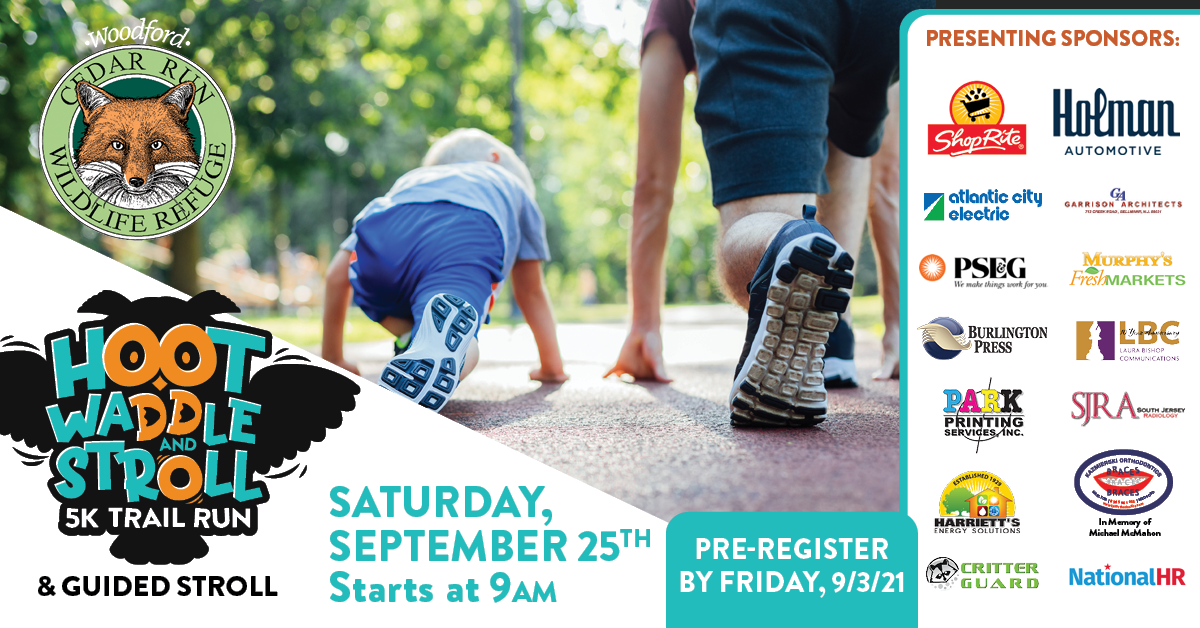 Run for a cause this fall in our 8th annual 5k Trail Run, going through our trails & Wildlife Enclosure Area. Run, walk or waddle on the same course with professional timing. Not a runner or looking to support another participant? Enjoy the outdoors & take a guided stroll through our Wildlife Housing Area with one of our guides. Geared for all ages!
---
Pre-registration tickets are ON SALE NOW! Sign up before Monday, September 6th to ensure you get your event t-shirt. While supplies last for all who sign up after 9/6/21.
Water & lite bites will be provided to participants before and after the race.
UPDATE 9/15: Pre-registration will end on Wednesday, 9/22/21 at midnight. Day of race registration will be open from 8am-9am on Saturday, 9/25/21. 
5k Trail Runners: 
$30 per Adult Runner
$25 per Student Runner
Guided Stroller:
$18 per Adult
$8 per Child ages 4-12
FREE for Children 3 & under
Top male and female racers will receive prizes!
The race begins and ends at the Pavilion outside of the Nature Center.
---
Event Details:
Check-in & Registration: 8-9 am
5k Race Start: 9 am
Guided Stroll: Starts after the race begins
Awards: Will follow the end of the race
Nature Center opens: 10am
Feel free to walk around the Wildlife Housing Area, Nature Center & our trails after the race.
---
Fundraising Opportunities:
We are encouraging all participants to share your love of Cedar Run with your friends & family by fundraising either as individuals or as a team.
The top individual & top team fundraisers will receive a prize!
As a token of our appreciation, the top fundraisers for teams & individuals will be awarded with the following:
TOP INDIVIDUAL FUNDRAISER:
Certificate of Appreciation
Adoption Package for the Wildlife Ambassador of Your Choosing ($50 value)
1-Year Family (2 adults/ 3 children) Membership ($75 value)
$10 Gift Card to the Nature Center Gift Shop
TOP TEAM FUNDRAISERS:
Certificate of Appreciation for each Individual
Adoption Package for the Wildlife Ambassador of Your Choosing ($35 value)
1-Year Family of 2 Membership ($40 value)
$10 Gift Card to the Nature Center Gift Shop
Donations can be logged under active.com or runsignup.com fundraising pages, or cedarrun.org/donate. Make sure the donor says "I am supporting (fill in your name)'s 2021 Hoot, Waddle & Stroll 5k fundraiser!" All recorded donations should be logged before Noon on Friday, 9/24/21.
Click here for our Cedar Run 5k Fundraising Toolkit. (This will automatically download materials.)
All proceeds from this event goes directly towards supporting Cedar Run's mission of the preservation and protection of New Jersey's wildlife and habitats through education, conservation and rehabilitation. When you attend a Cedar Run event, you make a direct impact in our community!
---
Click here to sign up for your advanced tickets here!