Jeanne Gural
Executive Director
In 2009, Cedar Run welcomed its current executive director, Jeanne Gural. Ms. Gural comes to Cedar Run from The Nature Conservancy where she served as the Director of Preserves. Ms. Gural also served as the Ecological Restoration Program Manager for Rutgers University, where she also attended graduate courses in Wildlife Ecology. During her time with the Claremont Colleges, Jeanne worked on wildlife and habitat focused projects in biologically diverse areas such as Venezuela, Mexico, Jamaica, Costa Rica and Panama. Jeanne is a New Jersey native, like many of the wildlife we see, having grown up in Palmyra where she and her four brothers all attended high school.
Zachary Tait
Land Steward and Facilities Manager
Zac accepted his position at Cedar Run in the beginning of 2018. Being an avid outdoorsman and having a background in landscape management and construction helps with the many jobs required to care for all of the animal enclosures, buildings and manage the trails on the 174 acre property. In Zac's free time he enjoys hiking, herpetology, skateboarding and camping.
Kathleen Marozzi
Office Manager
Kristi Rose
Database Administrator
MaryAnn Ragone DeLambily
Development Coordinator
George Martin
Nature Center Staff
Lorraine Hewlett
Nature Center Staff
Lori Swanson
Director of Wildlife Rehabilitation
Lori began volunteering at Woodford Cedar Run Wildlife Refuge in 2007 and quickly became seasonal staff and an apprentice in the Wildlife Hospital. In the winter of 2011 Lori became the Assistant Manager of the hospital and subsequently became the Director of Wildlife Rehabilitation in December 2012. Lori has a Bachelor's Degree in Biology and a Master's Degree in Environmental Studies, and for nine years worked in human genetic testing laboratories before becoming a full-time member of the Cedar Run staff. She has completed internships at the Pinelands Institute of Rutger's University and at the Philadelphia Zoo under their Education program working with a variety of reptiles. Lori also spent two months in South Africa in 2011 volunteering at a wildlife rehabilitation clinic near Durban.
Mike O'Malley
Assistant Director of Rehabilitation and Volunteer Coordinator
Mike started at Cedar Run as an intern in our Wildlife Hospital in 2011, and accepted a staff position in the Wildlife Hospital upon the completion of his internship. Mike became the Assistant Director of the Wildlife Hospital in the summer of 2015. Mike has a B.S. in Environmental Science from the Richard Stockton College of New Jersey. He completed his state wildlife rehabilitation apprenticeship at Cedar Run and is a NJ State Licensed Wildlife Rehabilitator. In his free time, Mike enjoys training and handling our resident raptors for education programs. When not at Cedar Run, Mike can be found hiking, camping, and enjoying the outdoors!
Ed Powrie
Wildlife Technician
Ed is a dedicated staff member who has been caring for our Resident Wildlife for more than 30 years. He is a movie buff, sci-fi enthusiast, and avid reader in his spare time.
Kelsey Lawler
Wildlife Assistant/Shift Manager
Kelsey started at Cedar Run in the summer of 2015 as a wildlife care intern in our wildlife hospital. She stayed on as a volunteer throughout the winter and was offered a seasonal staff position in 2016. Kelsey has a Bachelor's degree in Environmental Science from Stockton University. She has also completed an internship with Conserve Wildlife Foundation of NJ. Kelsey is involved with the state park system and aspires to continue a career in protecting and highlighting our beautiful Pinelands ecosystem. When not working and volunteering at Cedar Run, Kelsey loves exploring with her dog and pampering her cat.
Taylor Schmidt
Wildlife Assistant/Shift Manager
Taylor started at Cedar Run as a volunteer in the Wildlife Hospital in the spring of 2014 and happily accepted a staff position in the rehab in 2016. She is a graduate of Camden County College with Associate's Degrees in Biology and Liberal Arts and Science and received her Bachelor's Degree in Biology at Rowan University. When Taylor is not at Cedar Run, she also works as a part-time nurse at Regional Veterinary Emergency and Specialty Center. In her free time she enjoys hiking, kayaking, reading, and spending time with her friends and pets.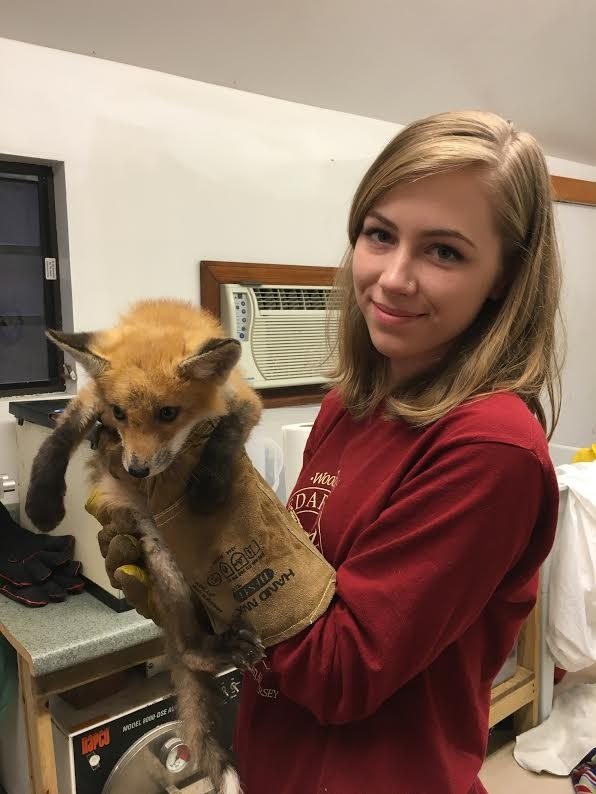 Heather Evans
Wildlife Assistant/Shift Manager
Heather started as a volunteer in the Rehabilitation Hospital in the Spring of 2016 but quickly became seasonal staff. She has worked as a formal educator for the past eight years and is currently pursuing a master's degree in Social Work. When not at Cedar Run, Heather enjoys spending time with her husband and their 3 teen-aged sons. Heather also enjoys hiking, cake decorating, and stand-up paddle boarding. Her favorite thing about being a part of Cedar Run is working with a wide range of wildlife and helping return them to the wild.
Erin Kiefer-Rounds
Senior Educator
Erin started as a summer camp intern at Cedar Run in May 2009 and quickly became a full-time staff member in our Education Department. She has a B.S. in Environmental Science from Stockton College and grew up near the shore in Ocean County. When not at Cedar Run, Erin enjoys hiking, crafting, photography, and spending time with her husband and young son. In January 2015, Erin won the "Outstanding Environmental Educator" award from ANJEE (Alliance for New Jersey Environmental Education) and as of September 2017 serves on their Board of Trustees.
Rachel Ndeto
Full-time Educator/Summer Camp Director
Rachel has worked as an environmental educator for over ten years after graduating with a B.S. in Outdoor Recreation from Lock Haven University. She started volunteering at Cedar Run in spring of 2018, working in both the animal hospital and the nature center. She was hired as an educator and camp counselor the same year and she accepted a full time educator position in 2019. In her off time, Rachel enjoys hiking and looking for interesting bugs, plants, and fungus to photograph. She is an avid crafter and is always looking for ways to incorporate art into nature education.
Cheryl Fisher
Educator and Wildlife Assistant/Shift Manager
Cheryl has worked in formal education for more than a dozen years, and informal education for more than 15 years. She is currently a high school biology teacher at a local school. A graduate of both Camden County College with Associate's Degrees in Environmental Science and Biology, she also received her B.S. in Biology with honors from Rowan University. Cheryl has been an enthusiastic and active member of our organization since 2011 when she began as an intern for our Wildlife Rehabilitation Hospital. An avid birder, hiker, and outdoorswoman, it was only natural for her to join our education team as well. Within a few months, she was leading tours and programs, sharing her stories with students and adults alike. Even on her days off, you may find her strolling through the trails with a bird of prey in tow, educating visitors at Cedar Run.
Lee Yeash
Educator
Lee is a jack of all trades, but started with us as a volunteer in the Wildlife Hospital in 2011 to utilize her nursing skills. She then volunteered with Education Department working on our education "Bird Team" in 2011, and later as a part-time educator in 2013, because she enjoys sharing her knowledge of the environment, conservation and wildlife with all kinds of people. A mother of 4, an avid baker and knitter, Lee also enjoys the outdoors and hiking in the Pinelands whenever possible.
Katie Corris
Educator
Katie is a recent graduate of Delaware Valley University with a B.S. in Conservation and Wildlife Management. Starting as a hospital volunteer in the spring of 2014 she fell in love with working with wildlife as well as the mission that Cedar Run promotes. The following year she became a member of the education team, sharing her passions with the public while working with the animals she holds near to her heart. When she is not at Cedar Run Katie enjoys birding, hiking, spending time with her cat, and photographing all the wildlife she sees along the way.
Mary MacDonald
Educator/Summer Camp Counselor
Mary started working at Cedar Run in 2015 as a summer camp counselor. She volunteers in the rehab and works with the education team giving tours, attending festivals, and handling our resident animals. She graduated from Stockton University in May of 2016 with a Bachelors in Environmental Science and another in Education. During the school year she is a teacher of science at BCIT in Medford. Mary loves working with the wildlife at the refuge and being a part of the education team.