Thank you for caring and taking the time to bring an injured or orphaned wild animal to Woodford Cedar Run Wildlife Refuge.
We are a state and federally-licensed Wildlife Rehabilitation Hospital that accepts more than 6,000 wild animals per year, which is over 26% of all New Jersey wildlife in need of care and treatment from a licensed Wildlife Rehabiliator, and Cedar Run does not receive any government funding.
The Cedar Run staff and volunteers strive to provide the best medical care and husbandry for the animals that are admitted to our facility. When you bring an animal to us our primary goal, in every possible case, is to rehabilitate and release back to the wild. With 3 full-time Wildlife Rehabilitators in our hospital and our pool of volunteers, we can sometimes see up to 100 animals a day and up to 500 in our care at one time, with highest number of patients treated during wildlife baby season (April – September). We are a small but mighty team that is devoted to the conservation and rehabilitation of our wildlife.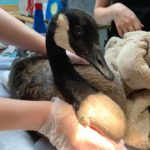 Animal Intake Update Policy & Waiting Times
Can I get an update on the animal I brought in? 
We understand that as the Good Samaritan bringing in these animals that you want an update once they are in our care.While we wish every update was a positive one, please understand that our patients many times suffer from extreme trauma or illness depending on their situation. These medical concerns may not be outwardly visible, but may present over time or only be found on a clinical examination. Our team does their best to give our wildlife patients their best chance at survival and release.
Please note the necessary wait times for requesting an animal update. 
Adult animals: 7 days
Baby animals: 90 days

Why the wait time?
These wait times are necessary for us to provide you with an accurate disposition, as issues can arise throughout the rehabilitation process. Animals can be in our care for months at a time depending on their age and the extent of their injuries. Our Wildlife Rehabilitators focus the majority of their time on ensuring that the animals that you bring to us receive the best quality care.
While we understand that more frequent updates would be preferable to those who bring us animals, more frequent updates would take away critical time with our patients. Additionally, our updates provide only outcomes for the same reasons with relation to time constraints. All of our efforts go into the care of these animals and we do our best to make sure to update the public as soon as the wait time is allotted. The updates you will receive will be directly from one of our Wildlife Rehabilitators to ensure that you are receiving accurate information on the animals that you brought to us for care.
Can I call to speak directly with someone about an update?
Please refrain from calling to inquire about updates. Our phones are extremely busy with calls about incoming animals and it is important that we give those calls priority. If you would like to inquire about the disposition of the animal that you admitted, please complete the required fields below. We receive many updates each day through our update system, and emails are not answered daily due to workload, but they are answered a few times a week.
I filled out the below form within the waiting period, and did not hear anything. Will you send an update?
You will need to refill out the form after the necessary waiting period. If you filled this out before the waiting period, you will not get a response from our team. Please respect the policies and the waiting periods, so we are able to give the best clinical treatment to these wildlife patients and be able to give you the most accurate information after the waiting period.
We encourage you to remember that we are in this line of work because of our absolute love and respect for wildlife. We believe that our work as Wildlife Rehabilitators is not only important to the animals in our care, but also to the larger ecosystem as a whole. To this end, we focus on the clinical needs of our patients every day to provide their best chance at release and survival in the wild. We are very thankful to our supporters and lovers of wildlife and we do the best we can to provide a second chance to as many wild animals as possible.
If you have not received an update within 3 business days and you have waited the appropriate amount of time, please check your SPAM folder before requesting again.  Emails will come from an unmonitored account, animalupdates@cedarrun.org.