When:
September 4, 2020
all-day
2020-09-04T00:00:00-04:00
2020-09-05T00:00:00-04:00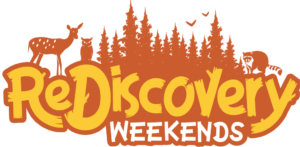 Cedar Run is putting a new twist on an old favorite. Instead of one family fun-filled day in September, we're introducing Re-Discovery Weekends all month long for nature lovers of all ages! Visitors can join us for Friday night campfires and storytelling, Saturday nature days and guest speakers, and Sunday canoeing, tours and guided hikes. Fees cover a full day of activities. Come for one thing, or see it all!
$10/person, ages 3 and up (non-members); $5/person, ages 3 and up (members)
Not a member, but want to be? Check out our membership page.
Event Sponsors Register Here!
Events scheduled for Friday, September 4th
Ongoing, 10am-4pm: Trivia Treasure Hunt – How well do you know Cedar Run? Come try our Trivia Treasure Hunt! Get a question sheet from the front desk and search Cedar Run for the answers. Come back with all the right answers and win a prize!
Ongoing, 10am-4pm: Landscape Nature Art – Create some beautiful, simple land art using natural materials! Use all natural objects such as pebbles, twigs, branches, pine cones, mud, leaves and petals. Photograph your sculpture and "tag" us on Facebook or Instagram for a chance to win a prize! Self-guided.
Ongoing, 5-7pm: Canoeing – Don't miss this limited experience to paddle on Cedar Run Lake! 20-minute timeslots will be assigned on a first come, first serve basis. Children must be accompanied by an adult.
7pm: Sunset Storytelling & Campfire – Come join us for an evening of Pinelands stories around the campfire. Stories are for all ages and we will roast marshmallows after.
By registering, you can attend any or all sessions throughout the day. While you are signed up for the day's events, some sessions have limited capacities so be sure to check your email for information after you complete your registration. Please be sure to check out the Nature Center for any added activities like crafts and make-and-takes too!
**Online registration for this event has ended. Tickets can purchased "at the door."