When:
September 12, 2020
all-day
2020-09-12T00:00:00-04:00
2020-09-13T00:00:00-04:00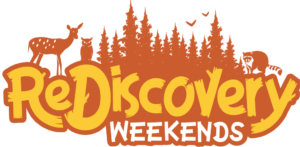 Cedar Run is putting a new twist on an old favorite. Instead of one family fun-filled day in September, we're introducing Re-Discovery Weekends all month long for nature lovers of all ages! Visitors can join us for Friday night campfires and storytelling, Saturday nature days and guest speakers, and Sunday canoeing, tours and guided hikes. Fees cover a full day of activities. Come for one thing, or see it all!
$10/person, ages 3 and up (non-members); $5/person, ages 3 and up (members)
Not a member, but want to be? Check out our membership page.
Event Sponsors Register Here!
Events scheduled for Saturday, September 12th
8:30am: Early Bird(ing) Gets the Worm – Cedar Run has an exciting birding adventure ready for you! What bird species call Cedar Run home? Learn some birding basics or improve your skills along our trail. Bring sturdy walking shoes, dress in layers, and make sure you have a water bottle and your binoculars (loaner binoculars will be available). Suitable for ages 8 and up.
Ongoing, 10am-1pm: Pond Dipping – Delve into the world of macro-invertebrates with us! Macros are insect larvae and nymphs, snails and aquatic insects that that live in the water and are able to be seen by the naked eye. What kind of things are living in Cedar Run lake? Stop by and check out what we've collected and try your hand at finding some creatures of your own!
11am: Fur, Feathers & Scales – Gain a better understanding of the different animal groups and learn how their body coverings serve many important purposes. Meet animals from the different groups to discover the diversity of life in New Jersey!
By registering, you can attend any or all sessions throughout the day. While you are signed up for the day's events, some sessions have limited capacities so be sure to check your email for information after you complete your registration. Please be sure to check out the Nature Center for any added activities like crafts and make-and-takes too!
**Online registration for this event has ended. Tickets can purchased "at the door."