When:
June 4, 2023 @ 5:00 pm – 6:00 pm
2023-06-04T17:00:00-04:00
2023-06-04T18:00:00-04:00
Join us for Yoga at Cedar Run! All levels are welcomed. This will be a slow vinyasa/yin class. Some flow movement with some deep juicy yin holds! Intentional movement progressing towards strength and healing to make you feel invigorated and relaxed.  Breathe in the healing energy of the natural surroundings, heal yourself as you contribute to healing the animals around you.
We will be enjoying our morning yoga in the nature setting of the Pine Barrens. Surrounded by the sounds of nature, the smells of the forest and the evening air, and under the full moon it is sure to calm your mind, body and spirit. This session we will be stretching out on one of our trails as we will take in the morning. We will have tea at the nature center as well to help get your body and mind calm, replenished and ready for this session!
Please arrive 30 minutes early at our Nature Center if you would like to visit some of our resident wildlife prior to our classes start time, class will start at 5:00pm. We would love to introduce you to our friends! 
Meet your instructor: Monica Walsh – High Vibrations Association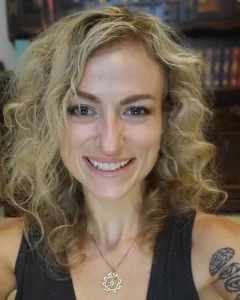 Monica was first introduced to yoga when her mom brought her to her first class that a friend was teaching at a Synagogue in the late 90s. They attended the class because Monica's relationship to her newly developing teenage body was not a healthy one.  This beautiful, simple, practice opened her eyes to a new path with
which to approach the human condition both on and off the mat. Ever since, Monica's desire for yogic knowledge snowballed –seeking out classes at local gyms and yoga studios turned into finding highly qualified mentors resulting in a lifelong regulated practice and a desire for something deeper, a taste for something higher than ourselves. For the last couple of decades Monica has spent thousands of hours on the mat at different vinyasa, hatha and 26/2 focused studios.  With a great deal of knowledge under her belt and a thirst to help others, Monica became a Yoga Alliance 200 Hour Certified Teacher in March of 2020 and began teaching yoga at Lavender Koi in Berlin, NJ immediately. Around the same time, Monica was introduced to Bhakti Yoga and began to deepen her knowledge in the ancient Vedic teachings of yoga philosophy. Today, Monica continues to teach at Lavender Koi Yoga as well as Studio 67 in Medford, NJ with the a focus of helping others, not only on a basic physical level in the body, but to also provide students with a tool box for the mind and spirit.
Please bring your own yoga mat as we do not offer rentals. Props are optional. Water will be available for purchase in the Nature Center, we also have a water refill station for any reusable water bottles. 
Limited space is available! Grab your spot before we sell out!
Children between the ages of 16-18 must be accompanied by an adult/parent.
No children under 16 may be permitted in the yoga session.
---
All proceeds from this event go directly towards supporting Cedar Run's mission of the preservation and protection of New Jersey's wildlife and habitats through education, conservation, and rehabilitation. When you attend a Cedar Run event, you make a direct impact in our community!
Please no birthday parties or scout programs for these events. If you are interested in hosting a birthday party or scout program at Cedar Run Wildlife Refuge, please check out our website links for Birthday Parties & Scout Programs.
General admission, promotional day passes (free-day passes/groupons) & library passes will not work for Special Events, such as this one.