Join the Club!
We have lots of exciting clubs to participate in! Whether your interested in crafting, bird watching or writing about nature, we have just the club for you! Scroll to see our list of club offerings below:
Creative Crafting Club: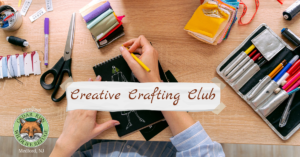 Get your creativity flowing when you join us for Creative Crafting Club! Meet with us each month to explore a different crafting technique and make a fun, unique piece of art with our Nature Center and Membership Manager, Ashley! From clay to needle felting, block printing to watercolor, each month will be something new. This club is geared towards adults and teens (16+) and is NOT suitable for children. No prior art experience is required, just a eagerness to learn and create! To learn more and register click here
Wilderness Writers:
Join us as we explore nature through writing!
It's no secret that nature has served as an inspiration for some of the most notable works of poetry and literature throughout history. Each month we will explore the importance of nature in writing from a different lens. Teens (ages 12+) are welcome to join us in our Nature Center to share, write, and create!
Each month will have a unique nature inspired prompt to help get the creative energy flowing. Completing the prompt is recommended but not required to attend the club. All you need is a love of nature and of writing! Learn more click here