When:
2023-04-22T00:00:00-04:00
2023-04-23T00:00:00-04:00
Join us for Cedar Run's first ever BioBlitz! We'll be getting out and about exploring all of Cedar Run. Be an observer or just come out and get a behind the scenes look at Cedar Run's artifacts of all kinds. Are birds your favorite? We got 'em'. How about reptiles? Check. Bugs? You're covered!
Artifact viewing will take place from 10am-2pm, but observations will be collected all day! Sign-up below if you plan to submit observations to receive information on what to expect. Plan to just come check out all of the cool stuff?! That's great too! No registration necessary. Event is free with Refuge admission. All ages and abilities are welcome!
What is a BioBlitz?
A BioBlitz is an event that focuses on finding and identifying as many species as possible in a specific area over a short period of time. A BioBlitz is also known as a biological inventory or biological census. The primary goal of a BioBlitz is to get an overall count of the plants, animals, fungi, and other organisms that live in a place.
The first BioBlitz was sponsored by the National Park Service and the National Biological Service in Washington, D.C.'s Kenilworth Park and Aquatic Gardens in 1996. Surrounded by heavy residential and industrial development, Kenilworth Park was thought to have very little biological diversity. Scientists, however, tallied more than 900 species that first year and added even more species to their list at successive Kenilworth bioblitzes.
What Are Observations?
An observation records an encounter with an individual organism at a particular time and location. This includes encounters with signs of organisms like tracks, nests, or things that just died. When you make an observation, you'll record: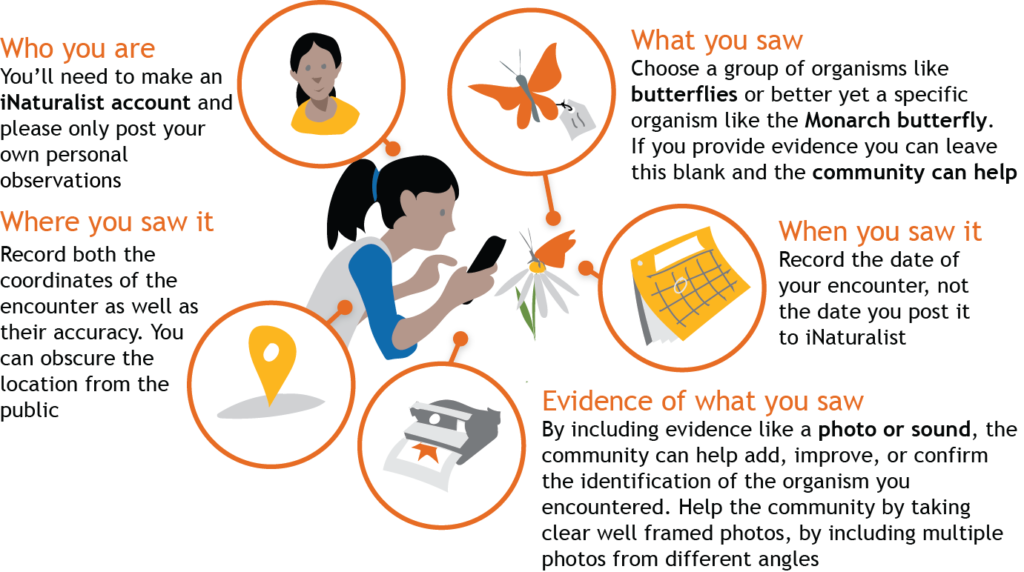 How to be an Observer:
Sign up below! If you can find a wild critter and take a picture of it you can participate as a BioBlitz observer!