Help! I found a baby deer!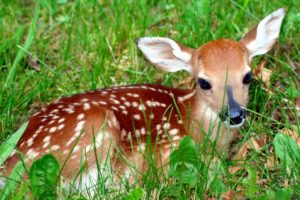 Very 
soo
n White-tailed Deer mothers will be having their babies and our wildlife hospital will be receiving calls about fawns in yards. Like many of the wild babies that we receive calls about, fawns are adorable and finders are always concerned that the babies are alone with no mo
ther in sight. DO NOT touch a fawn unless you are sure that it is in distress! Deer are extremely high stress animals and human interaction can have a negative effect on their survival.
 Mother deer leave their babies alone for 10-12 hours per day while they forage for themselves and only visit the baby to feed. While this may seem strange to humans, this is a defense mechanism to not attract predators to their newly born baby. So, it is not uncommon to NOT see a mother for many hours. The babies lie still, curled up in the grass, waiting for the mother to return. When first born, fawns are not strong enough on their legs to follow the mother or outrun predators, so they will only move short distances for the first 3-4 weeks of life until they are stronger. Their spotted coat also serves to help camouflage the fawn and keep them safe.
If you find a fawn that is curled up quietly in your yard alone, please do not be concerned. If the fawn looks healthy, leave the area so that the mother will feel comfortable enough to return when she is ready. If a fawn becomes abandoned, there are a few tell-tale signs. The fawn will likely start to wander aimlessly and cry for hours in search of its mother. If the baby is lying flat on its side, has flies around it, or is covered in ticks then it is likely that the fawn has been orphaned. In addition to nursing the baby, a mother deer will groom her fawn to remove parasites. If you see any of these signs of abandonment, PLEASE call your local wildlife rehabilitator. NEVER attempt to feed a fawn! Fawns have sensitive digestive systems and require specialized formula to ensure proper development an
d good health.
Near the end of the summer the spots on a fawn's coat will begin to fade. At this point they a
re able to be independent even if they lose their mother and
 do not require intervention. In addition, as fawns grow, they become very dangerous to handle. These juvenile deer have been with their mother long enough to survive and do not require mother's milk.
Please contact Cedar Run's Wildlife Rehabilitation H
ospital at 856-983-3329 ext. 107 for advice BEFORE bringing a fawn in for care. We are happy to provide insight into normal vs. abnormal behavior and determine if a fawn need
s help. Thank you for doing your part to keep wildlife families together!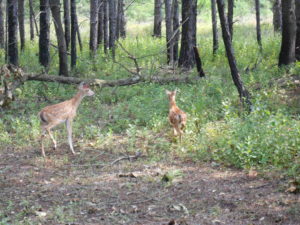 Every year our Wildlife Rehabilitation Hospital receives calls and animal drop-offs for wildlife that have been raised by the finder and are in need of care. The most common species that are seen in this situation are raccoons, squirrels, rabbits, and turtles. Most of these animals were found as babies and raised in the finder's home like they would do with a kitten or puppy. The reasons for relinquishing the animals are numerous, but generally are because the animals are becoming unmanageable, require too much care, or they have developed a health issue related to improper diet and housing. Sometimes, the finders decide that it is not the best setting for a wild animal and want them to be rehabilitated, but at that point the impact may be so great that even Wildlife Rehabilitators cannot turn it around.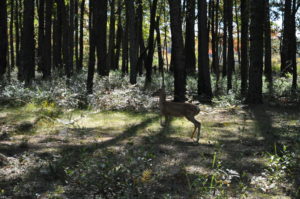 In the state of New Jersey it is illegal to raise native wildlife unless you are a licensed Wildlife Rehabilitator. This law is necessary to ensure that wild animals are getting the best care and so that untrained citizens are not being exposed to the many dangers and zoonotic illnesses and parasites that can afflict wildlife at any age. While the baby animal may be cute, it can potentially expose your family to a range of life-threatening illnesses. This includes rabies, which is a fatal disease. These animals are also physically dangerous, with strong bites and sharp claws. All of this can be harmful not only to you, but also to your pets. In addition, improper diets and husbandry can lead to medical issues such as Metabolic Bone Disease in the wild animal which many times are irreparable and will prevent release. The nutritional needs of wild animals are much different than domestic dogs, cats, and birds.
If you find a potentially orphaned native wild animal, please call your local Wildlife Rehabilitator for advice. NEVER attempt to raise a wild animal or expose it to your family or pets. DO NOT handle wild animals of any age without protective gloves. You can reach our Wildlife Hospital at 856-983-3329 ext. 107.
Click
here
for more info from our website.