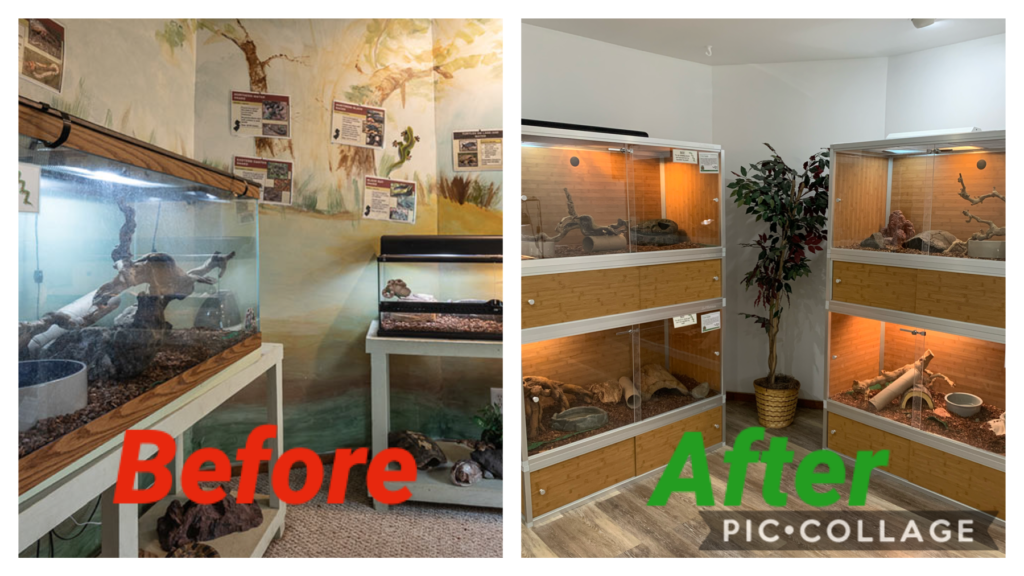 For the past few months, the Education Department has been collecting donations primarily from Facebook posts. Our supporters are incredibly generous, and we were really touched by your contributions. We wanted to let you know that your contributions went to a very big need!
Our Reptile Room was in need of new flooring, as the previous carpet held on to dust, dander and moisture which can cause respiratory issues for our turtles in the winter months. We were
to put down easy-to-clean, waterproof flooring to help with those health issues, as well as repaint using mold and mildew resistant material that is perfect for the humidity needs of our scaly friends.
For a week our reptiles were housed in the Nature Center classroom while the work was being down by our Stewardship Director, Zac, as well as our Educators Erin and Rachel. After clearing out the old enclosures and tables, reno started with new paint and was followed quickly by new flooring. We can say that the snakes and turtles are definitely happy with their new space! Thank you everyone who has donated!! We couldn't have completed this project with out you. Come and check it out soon!