Our wildly popular symbolic "Adopt-A-Wild-One" program helps fund the on-going care of our nearly 60 resident animals. This year, give the gift of wildlife, or treat yourself, and help protect the future of New Jersey's wildlife and habitats. There are many levels of support to choose from and many residents that need your help from Tommy the Eastern box turtle, to Mika the raccoon, or Orion the Bald Eagle. NEW for 2019, try Phoebe the striped skunk!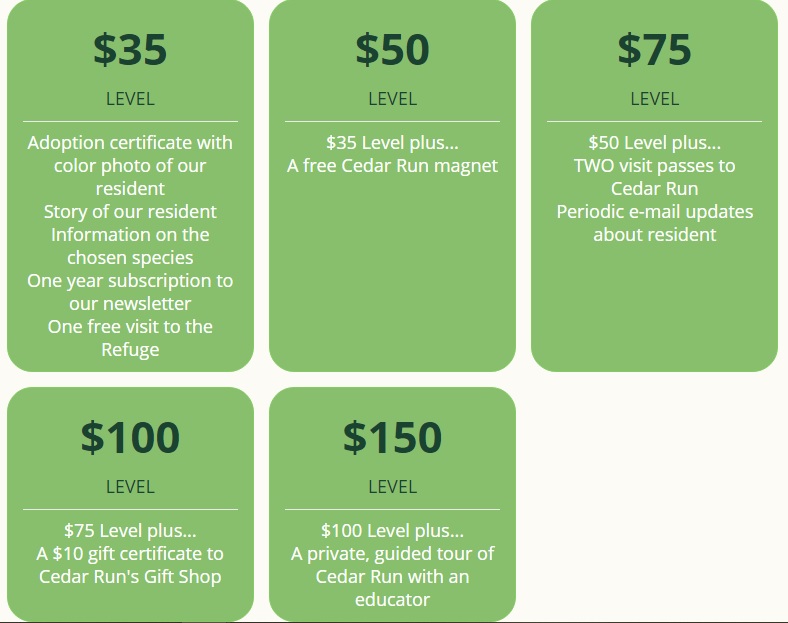 Phoebe, a female striped skunk, was brought to Woodford Cedar Run Wildlife Refuge in 2018 when her living situation in a home was not working out. Phoebe was born at a skunk breeding facility and had her scent glands removed. Due to her history, Phoebe must be kept in a captive situation and will be handled by humans for educational purposes. She will now spend the rest of her life at Cedar Run as an ambassador for her species, educating countless children and adults alike! Cedar Run does not encourage or promote the breeding or use of skunks as house pets.
Check out our Adopt page for all the information you'll need to adopt now!